Bologna is known as the fat one. It's Italy's food capital but it has a lot more to offer than tortellini and we made a point of searching out things that make it special… but don't forget the best gelato in Bologna while you are there!
Here are a few suggestions on how you can spend some time in La Grassa (that means the fat one in Italian):
Check out the music scene.
It's not too difficult, just by walking the streets you can hear a myriad of different music. We saw everything from a cellist playing classical to a five piece band playing the Muppets theme song and if you're a fan of the accordion, there's at least one on every corner.
Get moving
Exercise is a must when traveling. Especially in Italy when you're eating all those carbs. And with Bologna's 40 kilometers of porticos, inclement weather isn't an excuse not to get out there. A walk to Santuario Madonna di San Luca will give you great views of the city and surrounding area or a walk up Ansinelli tower's 498 steps are sure to get the heart pumping.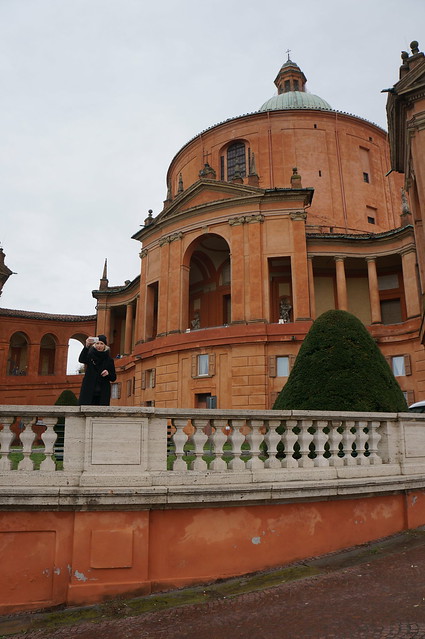 Taste all the gelato
With Carpigiani Gelato University based just outside the city, you can be sure that Bologna has plenty of the delicious frozen treat on offer. Two shops stood out for us, one is  Cremeria di Santo Stefano open since 2006, they have since added an exposed kitchen where you can watch cooks creating jams, jellies, and chocolate confections. The other is Cremeria Funivia on Piazza Cavour, get a gelato "con cioccolato fuso" and you'll get a ladle of melted chocolate in the bottom of your cone or cup, another good reason to exercise.

Head for the hills
The Bolognese Hills are on par with Tuscany, rolling and colorful and the best part is that within them hides white gold, in the form of white truffles. Experience the intricacies of the truffle hunt and learn from the masters by booking a tour. If you don't hit pay dirt you will at least have had a walk in the forest and the opportunity to see the beauty of the Bolognese countryside.
So enjoy the bread, pasta, and gelato but don't forget to immerse yourself in the city by walking the porticos, hunting the elusive white truffle, listening to its diverse music and everything else it has to offer.
Save